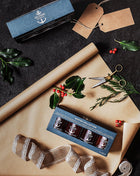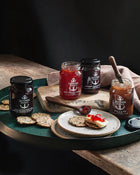 Description
With the Winter Collection, every jar is a testament to our commitment to creating unique and unforgettable taste experiences. It's the ideal choice for elevating holiday feasts, enhancing everyday meals, and gifting to those who appreciate the artistry of the culinary craft.
Ingredients:
Red Fresno Pepper Jelly: Cane Sugar, Apple Cider Vinegar, Fresno Peppers, Red Peppers, Pectin, and Habaneros. (vegan)
Cranberry, Sour Cherry & Port Preserve: Cane Sugar, Cranberries, Sour Cherries, Port Wine (Sulphites, Milk, Eggs), Orange Juice, and Spices. 
Apple & Fig Spread: Apples (apples, ascorbic acid, salt, citric acid), cane sugar, fig paste, Chardonnay (contains sulphites), oranges, fennel, and vanilla.
Winter Wonder Jam: Cane Sugar, Strawberries, Cranberries, Bourbon, Orange Juice, Pectin, and Spices. (vegan)
4 x 125ml | Refrigerate after opening and savour within 90 days.
Handmade with love on Salt Spring Island.