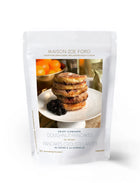 Description
A recipe so good you'll want to make ever single weekend! We add fruits of chocolate or cocoa powder but our secret is giving you a bag of cinnamon sugar to create a doughnut like pancake coating.... and it's epic! 
Makes 8 large pancakes or 12-16 smaller pancakes.
Please follow the directions exactly for a perfect result.
Net weight:
435 g
Unbleached Flour (Niacin, Reduced Iron, Thiamin, Riboflavin,Folate), Sugar, Baking Powder (Sodium Bicarbonate, Corn Starch, Monocalcium Phosphate), Salt. Cinnamon Sugar packet: Granulated Sugar, Cinnamon.