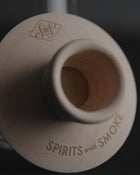 Description
Change the look and flavor of your cocktail! Spirits with Smoke's Smoking Saucer Set is made from sustainably sourced lumber chosen for its unique aromatic flavor. All our saucers are crafted by local artisans in North America and have been tested for smoking up to 300 cocktails. The Smoking Saucer Set is easy for travel and is proven to ramp up your smoky drink game. We guarantee it!
Additional Features
The 4" Diameter design fits on any cocktail glass, including traditional Rocks glass, Coupes or Glencairn.
We've made it easy to clean. Pop-out the screen, merely brush to remove ash buildup, lightly rinse and air dry.
Brass screens make the Smoking Saucer long-lasting.
Kit Contents: 
Maple Wood Smoking Saucer
Three flavors of wood chips infused with premium spirits.
- Cognac Cherry (4oz)

 


- Rum & Maple (4oz)
- Bourbon & Oak

 (4oz)

Replacement brass mesh screens
Four SWS branded coasters
A 4-pack of orange slices for garnish
Recipe and Instruction Booklet 
All Spirits with Smoke products are 100% compostable and recyclable. For every cocktail smoking kit sold, Spirit with Smoke will plant one tree with the One Tree Planted Program.