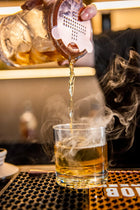 Description
Bring back the Old Fashioned with Spirits with Smoke's Old Fashioned Kit. Spirits with Smoke has assembled Cocktail Lounge quality ingredients, cocktail smokers and tools to craft the most amazing smoked cocktails at home!
Ideal for the bartender who is just starting, the Smoked Old Fashioned Kit is easy for transport and storage and perfect for those beginning their journey to creating cocktails from home. Add intrigue and excitement to your next party in ways you never imagined. 
Customize your Old Fashioned Kit with the choice between the Signature Five Woods or the Smoking Saucer Top to infuse a unique experience into every sip. 
To further enhance this experience, we've provided two aromatic cocktail bitters and organic Canadian Maple Syrup. 
This kit gives you recipes and how to videos on how to make our favourite 7 smoked cocktails as well! 
Kit Contents:
The Signature Five Aromatic Woods

 

OR The Smoking Saucer Top (comes with Cherry, Maple & Oak Infusion Chips)
Organic boutique Quebec maple syrup
Hand-crafted aromatic bitters
Sphere Ice Molds
Hand-turned wooden muddler
Restaurant quality coasters
Recipe and instruction booklet
Laser engraved case for storage 
SWS Signature Five Wood Flavors:
CHERRY: Light intensity smoke. Fruity and sweet notes.
HICKORY: Medium intensity smoke. Tobacco and spiced notes.
MAPLE: Light intensity smoke. Smooth and molasses, with toffee notes.
OAK: Medium intensity smoke. Vanilla, oak, nutty notes.
WALNUT: Heavy intensity smoke. Earthy and charcoal notes.
How to add smoke:
Select wood brick
Use a torch and burn wooden brick for 30 seconds until it has an independent flame.
Use empty glass to cover the Flame.
While glass smokes, create your cocktail.
Strain the completed cocktail into the smoked glass.
Add Ice, Serve and Enjoy!
All Spirits with Smoke products are 100% compostable and recyclable. For every cocktail smoking kit sold, Spirit with Smoke will plant one tree with the One Tree Planted Program.