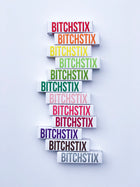 Description
Broad-spectrum SPF balms protect lips from UVA and UVB rays. Made with aromatherapy-grade essential oils, they'll leave your lips feeling soft and silky—and never chalky.
Certified Organic by Oregon Tilth
Contains Aromatherapy Grade Essential Oils
Non GMO
Palm Oil Free
Petroleum Free
Cruelty Free Product
Made in the USA
Net Wt. .15oz (4.25g)
SPF Blend: 7.5% Octinoxate, 5% Octisalate, 4%Oxeybenzone 1% Avobenzone.
Ingredients:
Active Ingredients: Avobenzone 4%, Octinoxate 7.5%. Octisalate 5%, Oxybenzone 4%.
Organic Sunflower Seed Oil, Organic Beeswax, Organic Coconut Oil, Organic Flavor/Essential Oils, Vitamin E, Organic Rosemary Extract, Organic Calendula
Mixed n' bottled by women-owned company Bitchstix.