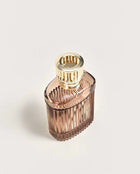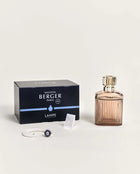 Description
Drawn to the harmony and stature of ancient Greek architecture? The design of the Alpha Beige Fragrance Lamp is inspired by classical architectural codes.
The raised lines of the relief pattern evoke the columns of an ancient Greek temple. This reissue of the popular Alpha Lampe Berger brings more subtle color to the iconic design. In a pale beige with pink tones, the lacquered glass body lets light shine through for a luminous effect. A golden cap enhances the warmth of this lamp, its openwork pattern echoing the lines on the body.
Add a touch of grandeur to your space with a stately lamp. How will this tribute to timeless design inspire you?
Wondering how to light a Lampe Berger?
It is so simple!
Choose any of Maison Berger Paris's home fragrance lamp scents.
Fill the lamp with the home fragrance of your choice.
Light the burner.
Blow the flame out after a couple of minutes to clean the air and release French fragrance that creates an atmosphere of timeless refinement.
The Lampe Berger has a unique and patented diffusion system that helps eradicate undesirable odors and bacteria while also diffusing your favorite fragrance. Purify your air the French way.
Fragrance Lamp sold in a gift pack with 4 accessories:
Wick-burner
Alpha gold diffuser cap
Stopper cap
Funnel

* Home Fragrance refills sold separately.