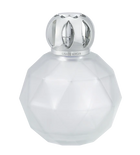 Description
Sparkling, beautiful, and mysterious, geodes are scintillating wonders of the mineral world. Bring some of their shimmering beauty into your space in a home fragrance lamp. With the Frosted Geode Fragrance Lamp, renowned French designer Armand Delsol has captured mesmerizing beauty. The spherical shape of the lacquered glass fragrance lamp body is a harmonious reference to the smooth outer layer of a geode. The lamp's finely cut triangular relief reflects and refracts the light, like the scintillating minerals at the heart of a geode. A frosty hue evokes the shimmering purity of white calcite.
Not sure how to use a Lampe Berger?
Simply choose one of Maison Berger's home fragrance refills, fill the lamp and light the burner.
Wait a few minutes before blowing out the flame to cleanse and gently perfume the air with French scent for the home.
Fall under the spell of a sophisticated lamp as stunning as the beauty forged by the natural forces of our earth.
The Lampe Berger has a unique and patented diffusion system that helps eradicate undesirable odors and bacteria while also diffusing your favorite fragrance. Purify your air the French way.
Fragrance lamp sold in a gift pack with 4 accessories:
Wick-burner
Round Silver diffuser cap
Stopper cap
Funnel
Home Fragrance refills sold separately.