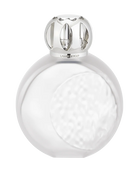 Description
The magic of moonlight captured in a lamp! In her design for the Astral Frosted Lamp, Rozenn Mainguené—who has designed for prestigious houses such as Armani, Dior, Carolina Herrera, Lancôme and Calvin Klein—transports us to the moon and explores all of its texture. The rounded lamp in the shape of a full moon draws you in with its play of textures, evoking both a smooth crescent moon and craters studding the lunar surface. A luminous polar hue accentuates every curve. The accompanying White Cashmere home fragrance is pure and soothing. Soft scents of Cashmeran wood blend with notes of orange blossom and accords of white musks for a delicate, powdery composition. Transcend the every day with a dreamy lamp the color of the moon in a vast sky.

The Lampe Berger has a unique and patented diffusion system that helps eradicate undesirable odors and bacteria while also diffusing your favorite fragrance. Purify your air the French way.
Lamp sold in a gift set with accessories: wick-burner, round silver diffuser cap, stopper, funnel + 250 ml White Cashmere home fragrance.  
HOME FRAGRANCE IS DYE FREE