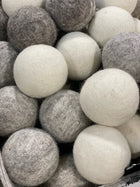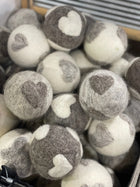 Description
Fairly Made in Nepal, these 100% wool dryer balls are the perfect laundry solution to directly impact our consumption of chemicals and single use cleaning items. It is recommended to use at least 3 per load to get best results (more for very large loads, especially bedding). When you use your dryer balls, they dry your clothing faster and gives you the opportunity to dry on the lowest heat setting without it taking more time. This happens because you are tossing the clothing around, thus circulating the air through the clothing more efficiently. This process also softens your clothing without having to use conventional fabric softener. 
Lastly, they reduce your static naturally. If you have a predominantly synthetic fibre based wardrobe it might not be able to tackle ALL the static, but it will significantly help. The more natural your clothing, the more effective the results. These balls will last for years, so there's no need to keep buying them frequently. 
Significantly Faster Drying Times.
Eliminates Static.
Fragrance Free.
Eco-friendly & Sustainable.