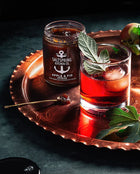 Description
Rediscover Tradition with Apple & Fig Spread
Indulge in the luxurious blend of flavours with our Apple & Fig Spread, a contemporary twist on a classic pairing. This Fall classic marries the bounty of apples, rich figs, Chardonnay, zesty oranges, fragrant fennel, and aromatic vanilla.
A beautiful blend of succulent apples, rich fig, Chardonnay, oranges, fennel, and vanilla
Elevates your dishes to gourmet heights
Pairs with almost any cheese
Use it as a glaze for roasted meats or vegetables
Spread it on a grilled cheese sandwich
Turn it into a vinaigrette
Add it to your favourite ice cream
A delightful gift for food enthusiasts and cooking connoisseurs
All-natural, no artificial preservatives
High-quality and fresh ingredients
Gluten-Free
Vegetarian (Chardonnay contains non-vegan friendly fining agents)
Ingredients:
Apples (apples, ascorbic acid, salt, citric acid), cane sugar, fig paste, Chardonnay (contains sulphites and non vegan-friendly fining agents), oranges, fennel, and vanilla.
270 ml | Refrigerate after opening and savour within 90 days.
Handmade with love on Salt Spring Island.