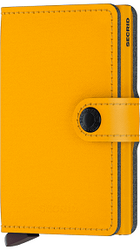 Description
You work hard for your money, but protecting it shouldn't be hard work.
Get in on our little Secrid with this trendy and functional mini wallet. Secrid Wallets protect against hackers with RFID protection and hold 6 flat cards or 5 cards; with thick letters, banknotes, or business cards.
The Miniwallet Yard Pistachio is combination of the Cardprotector Powder and a microfibre that is engineered to replace leather. With a unique touch, it's as durable as it is unique. Produced in Germany and assembled in Holland.
The Powder is a new step towards a zero-waste supply chain. A powder-coating technique upcycles minuscule scratches on the aluminium to create brightly coloured minimal wallets. Zero is the new hero. Please note the mechanism inside of the aluminium consists of 0,1 grams of sheep's wool.
Details:
- Solid aluminum
- 68 x 102 x 16 mm
- 3 year warranty