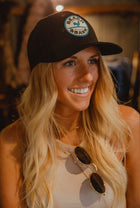 Description
First things first. Our PVC patches are sewn on...not glued. The only way this patch is coming off is if you REALLY want it off 🤣.
Secondly, the routed patch is durable, attractive, and easy to clean.
Sewing it to our structured mesh snapback makes for the perfect balance of style and comfort. 
Structured Front

Full Size Hat

Standard Crown Height

Flexible Brim With Short Break-In Time

Snapback Enclosure

Durable, High Quality Back Mesh